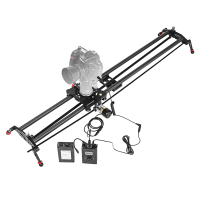 ASHANKS S1 Motorized Camera Slide Follow Focus Pan Electric Control Delay Dolly Slider Track Rail for Timelapse Photography
$285.00
I really love this camera slider. The adjustable 3rd rail allowing for either convex or concave panning while dolling left or right adds an interesting look to my videos. I do wish that the 100% speed setting was faster, but I can speed up my footage in Final Cut. I did have an issue with a faulty battery pack, but that was resolved quickly by the seller.
I am very pleased with Ashanks 39" Slider. It is very sturdily built. The carriage slides back and forth smoothly from one end to the other with no adjustments right out of the box. I have a JVC camcorder, a GoPro Hero4 Silver, and a Canon T3 camera. I have tried each one on the slider and no glitches whatsoever. I use the ball-head tripod mount from a tripod I purchased here and everything fits tightly - no slop between fittings. The motor operates smoothly and quietly. (I have read where folks think the motor is noisy, but I didn't find that at all). The belt definitely is quiet as it passes through the gear and alignment wheels. I have put it through it's paces going upright, horizontally, and on a tripod. So far, no problems to speak of. When used to move the camera vertically, it works very well at all speeds and holds it's position when stopped. The triggering for the camera (Canon) worked great. The bar that moves the carriage in relation to a central point is noiseless and easily adjusted. The instruction booklet is rather vague and a little difficult to understand, but there are plenty of videos on the internet to show you how to assemble the slider, the power pack, speed control etc. Overall, I would recommend the Ashanks to anyone.
what kind of power pack you use I have 5v 2a and it is not working
The hardware part of this slider is very good - sturdy construction. The Timelapse options in the controller do not atch what is written in the manual. Has anyone managed to figure out the timelapse optios in the controller?
Slider, even very good and easy to the same. do not play does not creak everything is OK, I am satisfied, worth the money-look in practice. then I will add a review. prodavtsu spasibo. dostavka very fast, although shipping took a long time but I think the seller knew that does everything it's intact not crumpled and broken-for that special thank you to the seller. vsem recommend this seller and shop!!!
Hello, I just forgot how to use the timelapse functionBut unfortunately I can't find the guide book. Even couldnt find by googling.Can i get the pdf file guide format if you have one? I would be thankful if you send it to ohjaxson@naver.com Thank you
So far so good, slider is really well built and well designed and easy to set up. I,m very happy with this purchase and I can highly recommend this camera slide and the seller. Thank you.